Each year, Worle Baptist Church takes part in the WEBox Appeal by collecting shoeboxes filled with gifts from local churches, schools, organisations, companies and groups before they are transported to Albania to be distributed amongst the children. Last year around 350 boxes were received at Worle Baptist before starting their journey. Just over 3,000 boxes were transported and distributed in Albania from churches within the South West.
The events of the past year in Albania, with the earthquake at the end of 2019, and now Covid-19, mean that this year there is even more of a need for the WEBoxes.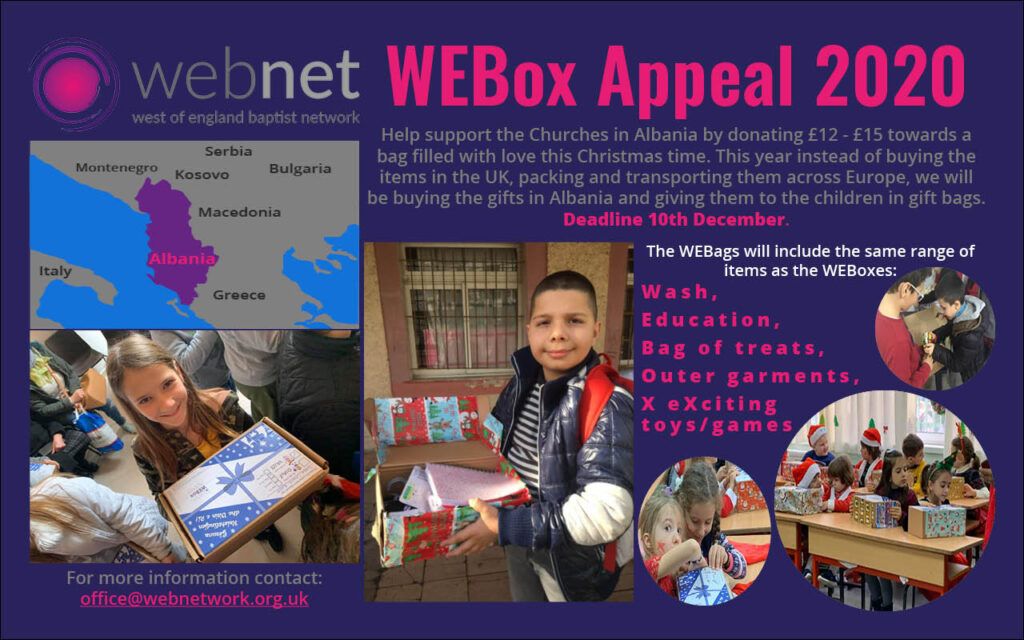 In reality though, there are limitations and restrictions, due to Covid-19, that make running the project in the usual way unfeasible.
This gives an opportunity to explore a different way of running the project, and Webnet are inviting us to be part of this new opportunity!
For 2020, instead of buying the items in the UK, packing and transporting them across Europe, the team will be buying the gifts in Albania and giving them to the children in gift bags. This should not only minimise Covid-19 contact points, but will also be more environmentally friendly and invests in the Albanian economy.